May 29, 2023 | Andrew Parkin
Religion, Rights and the Role of the Courts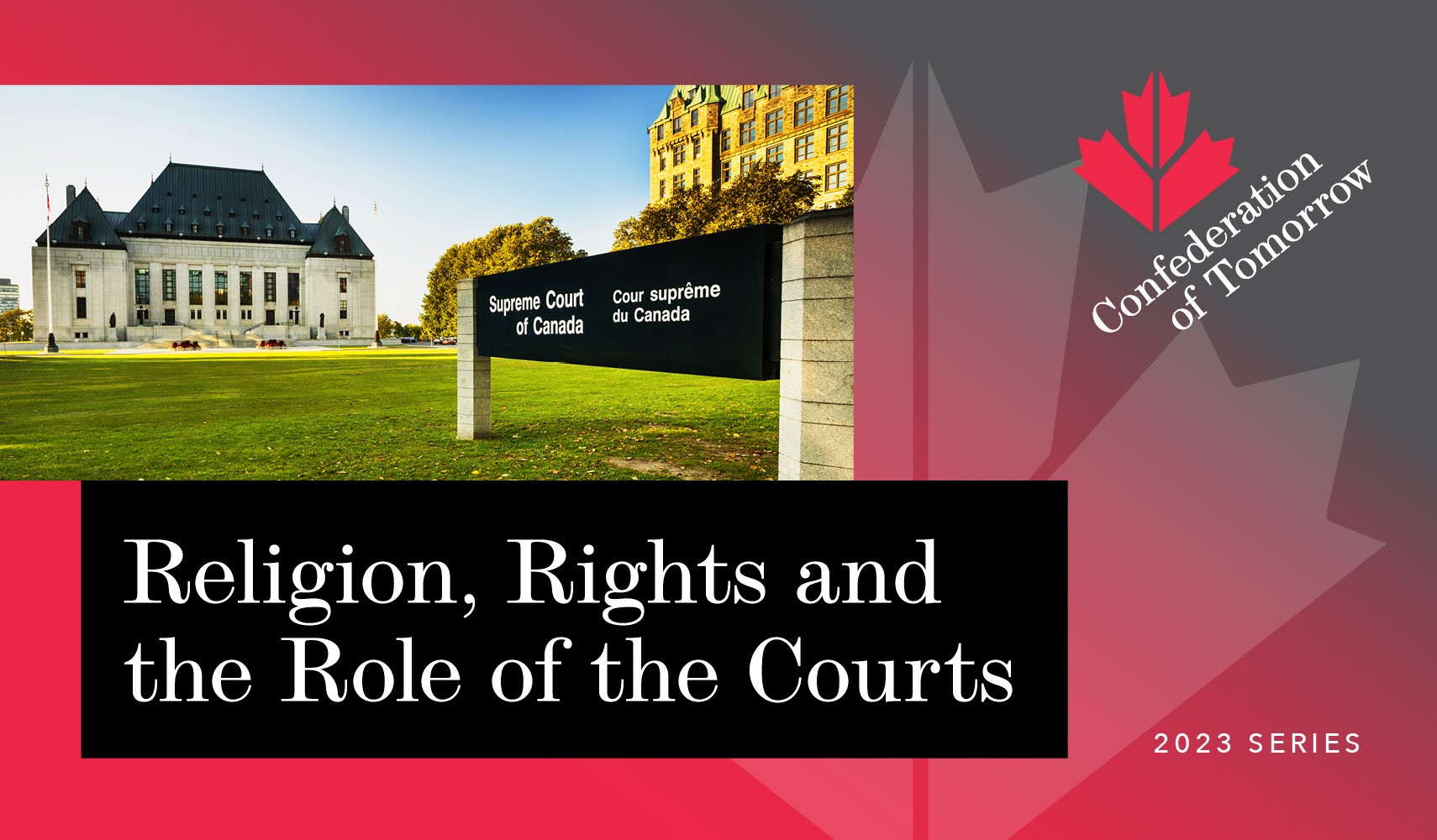 Religion, Rights and the Role of the Courts
A report from the 2023 Confederation of Tomorrow Survey of Canadians

The Confederation of Tomorrow surveys are annual studies conducted by an association of the country's leading public policy and socio-economic research organizations: the Environics Institute for Survey Research, the Centre of Excellence on the Canadian Federation, the Canada West Foundation, the Centre D'Analyse Politique – Constitution et Fédéralisme, the Brian Mulroney Institute of Government and the First Nations Financial Management Board. The surveys give voice to Canadians about the major issues shaping the future of the federation and their political communities. The 2023 study consists of a survey of 5,300 adults, conducted online in the provinces between January 26 and February 9; and by telephone in the territories between January 24 and February 26.

Last year marked the 40th anniversary of the Canadian Charter of Rights and Freedoms. While the Charter as a whole remains popular, the occasional use by governments of its provision allowing them to override certain Charter rights (Section 33) continues to spark controversy. The Quebec government has used this "notwithstanding clause" to insulate laws on religion and language from judicial review; while the current Government of Ontario has relied on it several times since coming to power in 2018 (though, in one recent case involving back-to-work legislation, the government withdrew the use of Section 33 in the face of union and public opposition). In the context of these events, the 2023 Confederation of Tomorrow Survey revisited public views on the relationship between governments and the courts, and on how governments should best express their religious neutrality – the issue at the heart of Quebec's Bill 21.

Key findings

Quebecers and other Canadians continue to differ on how governments should best express their neutrality with regard to religion. Outside Quebec, a majority favour a form of neutrality that would see the government not interfere with how people practice their religion. In Quebec, the more popular choice is a prohibition on public servants visibly displaying their religious affiliation when providing services to the public. Preferences have changed little since 2020 in both parts of the country.

Canada-wide, there has also been little change in opinions as to whether the Supreme Court or Parliament should have the final say when a law is struck down because it is found to conflict with the Canadian Charter of Rights and Freedoms, and whether in such cases the government should be allowed to override the Court's decision. But among francophones in Quebec, there are signs of a modest evolutionin favour of legislatures rather than the courts.

Read the report

For more information contact the Environics Institute or Dr. Andrew Parkin.


Stay Informed

Like what you're reading? With our bi-monthly e-newsletter, you can receive even more with the latest details on current projects, news, and events at the institute.
Subscribe
Interested in hearing or learning more? Book a presentation to get even greater in-depth insights.
Book a Presentation