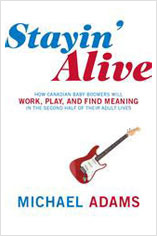 Stayin' Alive: How Canadian Baby Boomers Will Work, Play, and Find Meaning in the Second Half of their Adult Lives
As Canada's Baby Boomers prepare to enter the second half of their adult lives, leading pollster and analyst Michael Adams describes his generation's thoughts on topics ranging from retirement and spirituality to sexuality and funeral plans. This fun and insightful book draws on over twenty years of Environics social values data—including a special 2008 study that surveyed an extra-large sample of Boomers on issues specific to their current life stage.
The four social-values "tribes" Adams described in his bestselling book Sex in the Snow are alive and well: the Disengaged Darwinists, Connected Enthusiasts, Autonomous Rebels, and Anxious. Communitarians continue to display distinct values and behaviours—and are evolving in fascinating ways as they age. Adams outlines each tribe's approach to retirement, health, technology, family, consumption, spirituality, and politics. His tribal segmentation analysis is an important corrective to analyses that treat Canada's largest generation (over 9-million men and women) as a monolith. The trends and insights Adams finds in Environics' large bank of social values data will be invaluable to marketers, policy makers, human resource professionals and anyone else seeking to understand where Baby Boomers—and the rest of us—are headed in the years to come.

"A thorough and revealing reflection on the values of the BabyBoom generation, with a surprise at its core: we're not as uniform a group as the hype contends, and our nostalgia goes back a lot farther than the 1960s."
– Moses Znaimer, Founder of Zoomer Magazine + Media

"Packed with laser-sharp 'Aha!' insights, this is required reading for everyone from marketers to NGOs and politicians. Stayin' Alive drills deep into the mindset of Boomers and beyond – the generations that will profoundly shape our next few decades."
– Jeannette Hanna, Trajectory's VP, Strategy; co-author Ikonica, A Field Guide to Canada's Brandscape

"As an 'Autonomous Rebel,' I appreciated the insight into all the Boomer tribes. This book is invaluable for anyone for whom the attitudes and behaviour of the Canadian Boomer generation is a significant factor."

—Alan C. Middleton, Schulich School of Business, York University
Stay Informed

Like what you're reading? With our bi-monthly e-newsletter, you can receive even more with the latest details on current projects, news, and events at the institute.
Subscribe