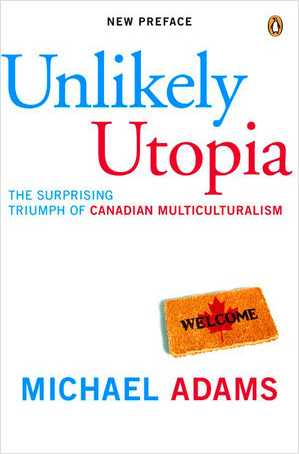 Unlikely Utopia: The Surprising Triumph of Canadian Multiculturalism
Most countries accept immigrants, but when it comes to the scale of its immigration inflow and the diversity of its foreign-born, Canada stands alone in the world. Some believe that amid the new world order, driven by ethnic and religious conflict, it is just a matter of time before Canada becomes a battleground in the manner of Lower Manhattan, the London Underground, or the suburbs of Paris.
Does the violence of the world at present—violence seemingly characterized by resurgent tribalism—put the lie to the idea that multicultural Canada can become a utopia? In Unlikely Utopia, Michael Adams says no. He believes that far from being disabused of their pluralist naïveté by the world's conflicts and bloodshed, Canadians are focusing even harder on the quotidian tasks of helping people of all backgrounds get along—both materially and socially—and that over time Canada is proving to be the "experiment" that worked.
With chapters on Quebec, Canada's unique public attitudes toward diversity and multiculturalism, and an unprecedented survey of Muslim Canadians, Unlikely Utopia is a meditation on the future of Canada—a future of greater promise and greater human import than any Canadian might dare imagine.
Stay Informed

Like what you're reading? With our bi-monthly e-newsletter, you can receive even more with the latest details on current projects, news, and events at the institute.
Subscribe