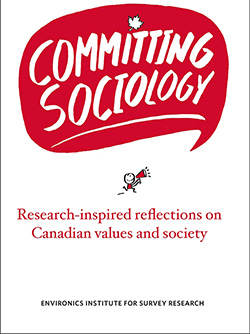 Since 2006, the Environics Institute for Survey Research has sought to help Canadians better understand themselves and their fellow citizens. The Institute has sought out and amplified the voices of ordinary people through original and relevant public opinion research.
Committing Sociology, marking the Institute's 10th anniversary, is a curated collection of commentary, analysis, and long-range reflections from the Institute's research on issues ranging from social diversity and electoral politics, to civic participation and the environment.
As a whole, the volume illustrates the implications of the Institute's work over the last decade for shaping public policy and assisting Canadians to understand ourselves as our country turns 150 years old. What is new in how we view Canada? What have we kept from the past and what have we left behind? Are we in the process of reinventing ourselves – perhaps as the world's first truly post-modern country?
The book features published essays by:
Michael Adams, Founding President, Environics Group of Companies, Environics Institute
Keith Neuman, Executive Director, Environics Institute
Michael Mendelson, Board Chair, Environics Institute, Senior Scholar, Caledon Institute of Social Policy
And includes external commentary from:
Tom Flanagan, Professor Emeritus of Political Science, University of Calgary
Doug Saunders, International Affairs Columnist, the Globe and Mail
Janice Gross Stein, Founding Director, Munk School of Global Affairs, University of Toronto
Committing Sociology is available at select bookstores and online at Amazon.ca
$24.95.
Stay Informed

Like what you're reading? With our bi-monthly e-newsletter, you can receive even more with the latest details on current projects, news, and events at the institute.
Subscribe
Interested in hearing or learning more? Book a presentation to get even greater in-depth insights.
Book a Presentation