November 3, 2020 | Pedro Barata, Wendy Cukier, Andrew Parkin
Are the robots coming for our jobs?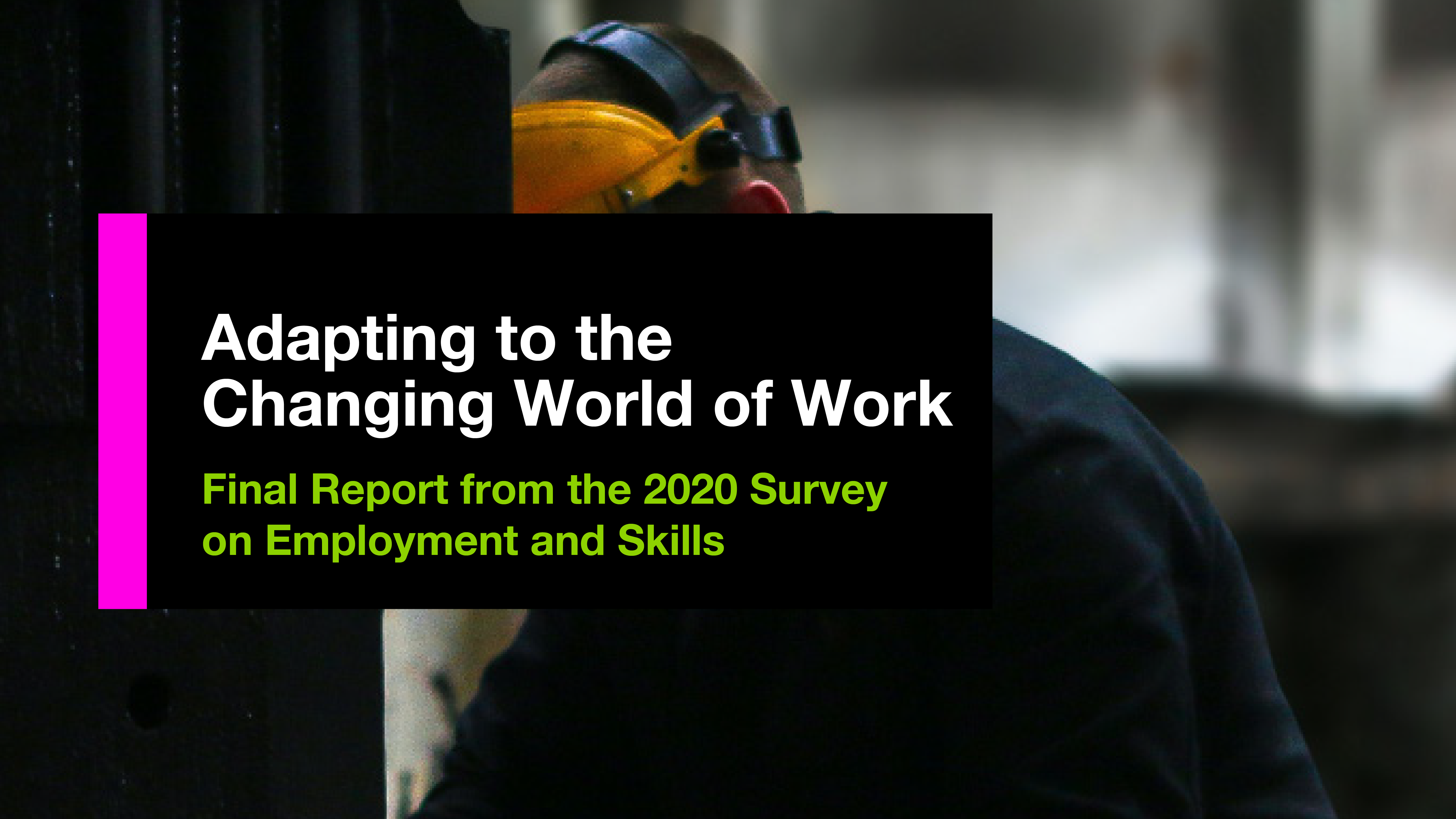 The following op-ed was published in the
Ottawa Citizen
on October 13, 2020.
The full report from the 2020 Survey on Employment and Skills can be found
here
.
Pedro Barata is the executive director of the Future Skills Centre. Wendy Cukier is the founder and academic director of the Ted Rogers School of Management's Diversity Institute. Andrew Parkin is the executive director of the Environics Institute for Survey Research.
Are the robots coming for our jobs? For years, that's been the fear. Experts have warned that automation and artificial intelligence will disrupt the labour market. While some predict that new technologies will create as many new jobs as they displace — at least for those with the right kinds of skills — others see growing and persistent unemployment.
Rather than polishing our own crystal ball, we asked Canadian workers about their experiences with technological change. On the whole, these experiences are more positive than negative. Yet they point to some potential trouble to watch for, especially once the post-pandemic economic recovery takes hold.

The extent of technological change is clear: Overall, two-thirds of Canadians in the labour force say that, over the past five years, new information or computer technologies have changed the way they do their jobs to a great or some extent. Younger workers, immigrants, racialized Canadians, and those with a university degree are more likely to have been affected.
But change isn't necessarily a bad thing. Most say that these changes have either had a positive or a neutral effect on their jobs. Majorities say that technological changes have made their jobs more enjoyable and easier, and three in 10 say they've resulted in higher pay and greater job security. Only a minority say these changes have made their job less enjoyable, more difficult, less well-paid or less secure.
So far, so good. But our survey also suggests that new technologies may widen some already existing gaps. For instance, men are more likely than women to say that new technologies in the workplace have made their jobs better paid and more secure. Those working in executive or managerial positions are also more likely to find their jobs have become even better paid. However, those working in sales or retail jobs (who are also more likely to be women, younger, or recent immigrants) are more likely to say that new technologies have led to lower wages.
One way to prepare workers for technological change is to invest in skills training. Here again, there is both good news and a red flag. The good news is that skills training is viewed positively by those who access it. In the past five years, one out of every two Canadians in the labour force participated in a work-related skills-training course provided by their employer. Of these, as many as nine in 10 say that it was useful in helping them develop the skills they needed to succeed.
The red flag? Employer-provided skills training is more likely to be accessed by those who are already more securely employed — including full-time workers, union members, younger workers, professionals, executives and managers, and those with a university education. Once again, the issue is not that technological change is always negative. Rather, it is that our existing approach to training may reinforce existing gaps by targeting those who are already more likely to succeed.
This is an important lesson to learn, not only when responding to technological change, but in planning for the post-COVID-19 economic recovery more generally. If the pandemic ends up accelerating the pace of change in the workplace, then efforts to ensure more vulnerable Canadians don't fall through the cracks must ramp up as well. These efforts should include skills training, delivered in a way that bridges rather than widens the divide that separates those more and less able take advantage of the opportunities that new technologies offer.
No government should try to hold up the pace of change. Technological change in the workplace may even accelerate now, in the wake of the COVID-19 pandemic, as employers try to make up lost ground and adapt to physical distancing. Many Canadian employees are likely to welcome this, given their generally positive experiences with the impact of technology on their jobs so far.
The question of whether the robots are coming is not the one that should preoccupy governments. Rather, governments must look at which types of workers are in a position to benefit from technological change, and which ones need better-targeted interventions, including skills training, to make sure they are not left further behind.
Stay Informed

Like what you're reading? With our bi-monthly e-newsletter, you can receive even more with the latest details on current projects, news, and events at the institute.
Subscribe
Interested in hearing or learning more? Book a presentation to get even greater in-depth insights.
Book a Presentation